MAIN MENU
CHECK OUT OUR MENU AND SELECT SOMETHING FOR EVERYONE
STARTERS
ANTIPASTI
BEEF
FISH
CHICKEN
PASTA
RICE DISHES
CALZONE
PIZZA
COMPLIMENT
INSALATA
STARTERS
ALL PASTA'S AVAILABLE FOR STARTERS £8.95/ *£10.95
Marinated Olives V £6.95
Mediterranean style olives marinated in Italian herbs with feta cheese. Served with Ciabatta bread
Spinaci & Pancetta £6.95
Spinach, avocado and crispy bacon – drizzled in a grain mustard dressing
Avocado & Gamberetti £8.95
Avocado served with succulent Norwegian prawns delicately dressed with rose marie sauce, served on a bed of crispy lettuce
Pate Della Casa £6.95
Pate served with warm toast and a crispy salad garnish
Cornetto di' Salmone £8.95
Thinly sliced smoked salmon topped with the best prawns in a rose marie sauce, served with garnish on a crispy lettuce be
Insalata Di Mozzarella V £6.95
Caprese Buffalo mozzarella with ripe plum tomatoes, extra virgin olive oil & fresh basil.
Coppa di Gamberetti £7.95
Succulent Norwegian prawns topped with rose marie sauce served on a bed of crispy iceberg lettuce with garnish and bread.
Bread V £5.95
Selection of Italian bread served with extra virgin olive oil and the finest aged balsamic.
Antipasto Amore £9.95 for 1 / £16.95 for 2 / £23.50 for 3
Our famous antipasto- a generous selection of Italian meats, fish, cheese & salad
ANTIPASTI
BEEF
FISH
CHICKEN
PASTA
RICE DISHES
CALZONE
PIZZA
COMPLIMENT
INSALATA
All Fish, fillet & Chicken Dishes are served with a garnish and a choice of french fries, wedges, rice, butter tossed pasta or seasonal vegetables.
*All prices include VAT – There is a £10 minimum cover charge.
An optional 10% service charge will be added.
Due to the presence of nuts in some dishes, we cannot guarantee the absence of nut traces in our dishes.
Gluten FREE pasta is available on request, but we cannot guarantee the absence of wheat traces in our dishes.
Download our menus via the buttons below

Popular Items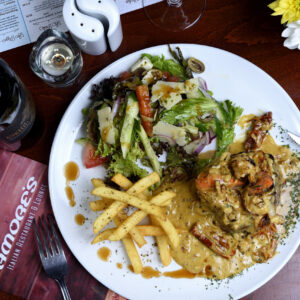 Chicken breast cooked with onions, mushrooms, smoked bacon & dolcelatte cheese, finished in a cream sauce with a light sprinkling of black pepper.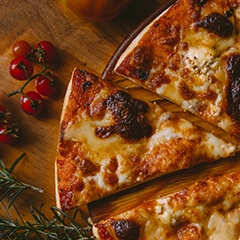 A sprinkling of mozzarella cheese topped with prosciutto, rocket leaves & wafer thin shavings of Reggianio Cheese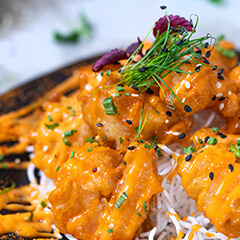 Char-grilled salmon fillet cooked with mussels, prawns, a hint of white wine & tarragon, finished in a creamy sauce.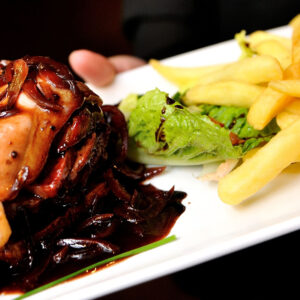 Fillet Steak filled with pate wrapped in bacon, cooked with caramelised shallots. In a rich port sauce on crouton (this dish can not be cooked well done)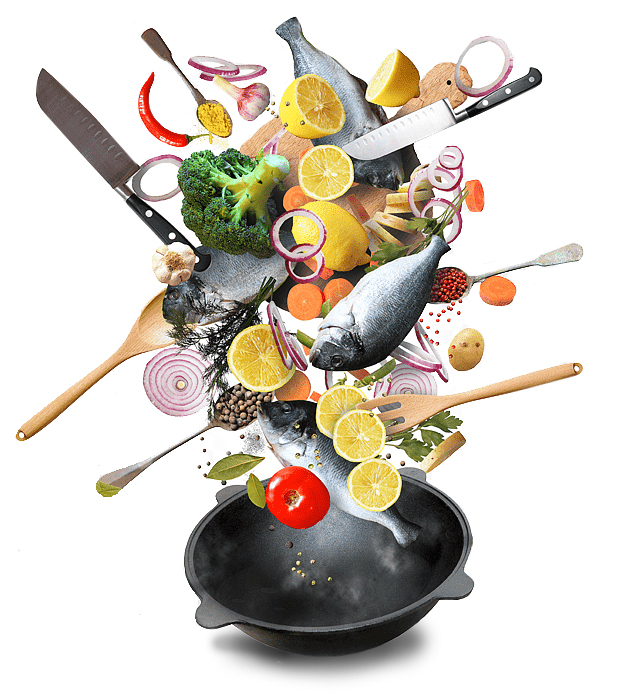 Call us and find out more